Прочитать на русском
If you are interested in clothes and styles - just like me - you must have come across versions of this list. Compiled by some very authoritative editions, they may read: Top 10 most beautiful… Top 50 iconic… 20 top celebrity… Titles differ, yet when one starts browsing, it is the same faces over and over again. Personally, I often end up disappointed. Seems, they make up ratings of the fiancées, not their outfits. But then you have to be honest about it and write, for example: 'Top (number) famous brides'.
I have made a little list of my own. It is not exhaustive. And I am not sure I've got all 'the most beautiful' of the most beautiful. However, I definitely saw some - and I made an effort to single them out and place accordingly. The rating reflects my taste and is based on my personal opinions. So here are top 12 most memorable bridal looks of all times, in ascending order (starting from the bottom place).
It is extremely uncommon to print patterns on bridal gowns. However, Angelina Jolie's dress enhances her own looks, in a peculiar way, making the overall impression interesting and original, so my 12th place goes to her this time.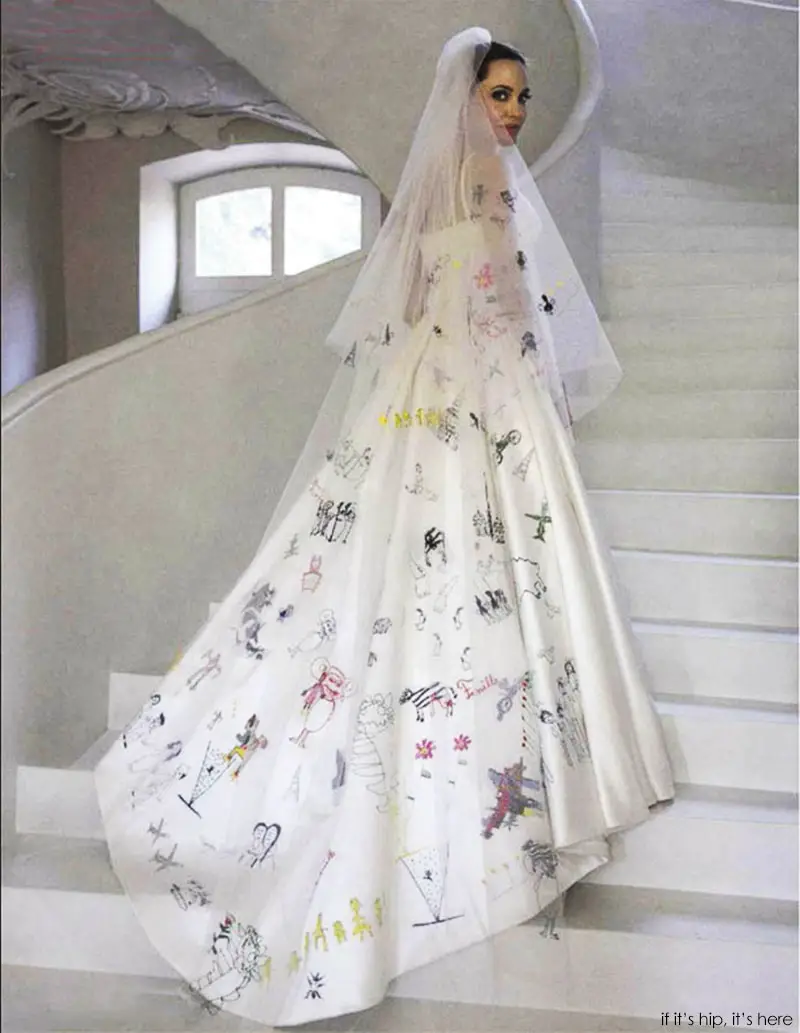 Ivanka Trump's wedding look is not unique – quite the contrary: many famous or rich brides choose this type of dress - strapless 'base' covered over with a kind of open-work fabric- the hyped up creation of the Duchess of Cambridge included. However, what draws attention to Ivanka's attire is the really very beautiful lace, lush and airy at the same time: 11th place.
Victoria Beckham keeps it minimal and stylish, as usual. There is also something British about this dress – makes her look stately. 10th place.
Madonna's marriage with Guy Ritchie would attract a lot of publicity, so the outfit just could not be bad. The pop queen had some Byzantine-styled crown on her head and was covered with veil. Bridal classics - elaborate, tasteful - and demure, especially given the wearer. 9th place.
Poppy Delevingne's cute and fuss-free style, courtesy of Carl Lagerfeld himself, had a lot of attention. The semi-sheer creation is highly unusual in design for a wedding gown and comes across as very urban. Ultra-modern, cosmopolitan bridal dress, I'd say – 8th place.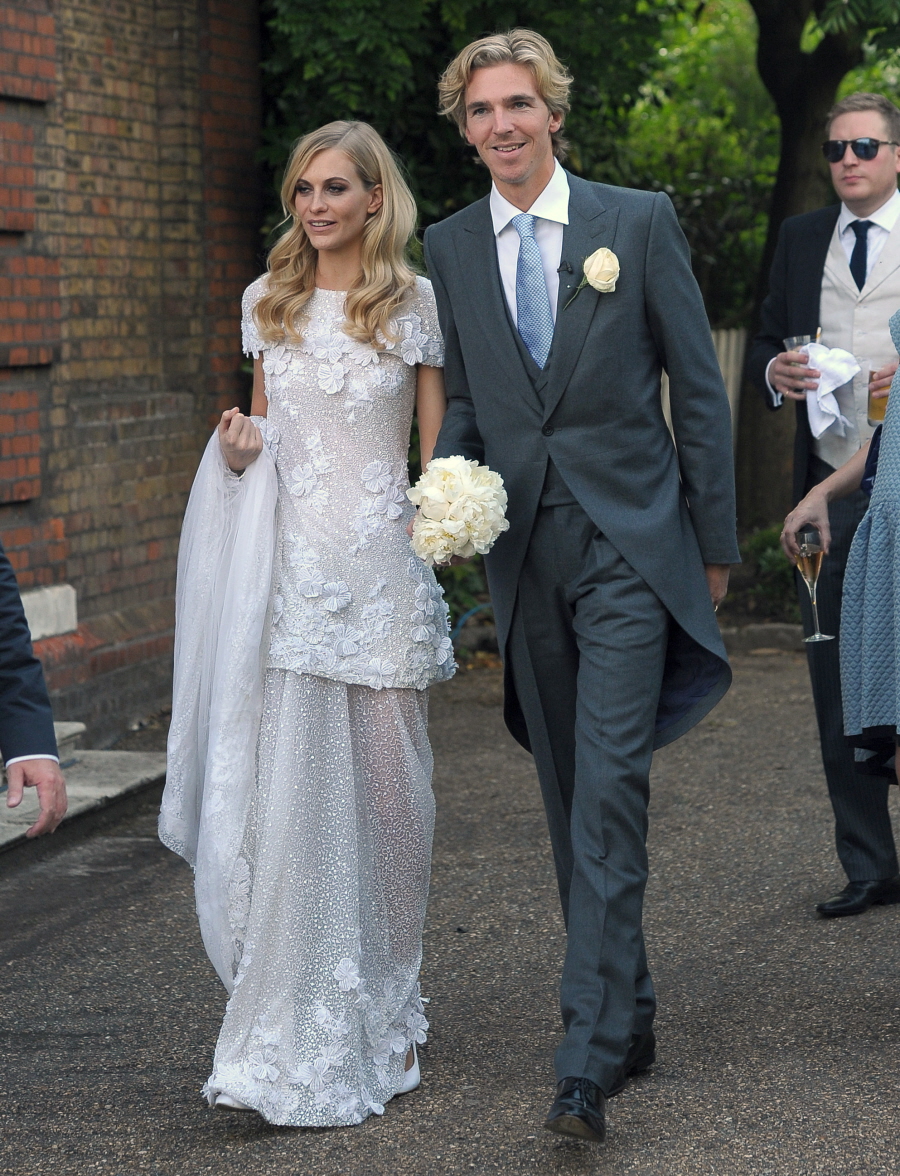 Queen of England made a beautiful bride: serene, dignified and demure. For her big day Elizabeth wore a flower-scattered long trailing dress – very long. The elaborate floral composition she carried was really worthy of a queen. A picture of elegance and grace - 7th place.
Victoria, the Crown Princess of Sweden, kept it regally sleek and simple. Topping off the look, there was a stately and expensive-looking crown with matching jewellery and one majestic lace veil, trailing off the back. 6th place.
Before you go further to the top 5 creations, that I deem to be the most beautiful I have come across, I would like to reiterate once more: this rating reflects my personal opinions. It is not and cannot be exhaustive, as it is based on very general information available through the Internet.
Gwen Stefani's wedding gown with the ombré effect sparkled a lot of interest. The flowery appearance of the dress spurred many to copy, celebs included. Although, what do I know –Stefani herself may have picked the idea up somewhere, too. Actually, if this rating covered coloured bridal gowns as well, it might look different. However, I kept it traditional with some minor exceptions. After all, this is a white dress, predominantly - and a singular one, 5th place.
It is a shame, one can hardly find more pictures of this lovely-looking dress - also seems so flattering on Jennifer Aniston. Alas, the actress destroyed it with her own hands, reportedly, after the divorce. Pity! The creation looks heavenly. Slightly reminds me of the lingerie style – maybe, that was the reason she let few pictures be taken: wanted to keep it all for the groom. 4th place.
Just like in the previous case, I could find but a few pictures - all snapped from the same angle, with the bouquet in the way. However, it is enough and quite obvious that Salma Hayek wore one of the most beautiful bridal gowns ever. A classic full skirt combined with an exquisite silvery top - simple in style, intricate in detail - enhancing the star's neckline. Perfectly tasteful and absolutely gorgeous – can't take my eyes of her in these few pics. 3rd place.
The strapless dress looks simply stunning – on the perfectly shaped frame of one of Victoria Secret models. The volume in the down part enhances the lovely figure. Swanlike! The sweet-heart line is very flattering, too. I have always liked mermaid wedding dresses and see now, that opting for this style, a bride like Abbey Clancy makes no mistake. Minimal and splendid all the way – 2nd place.
This dress is a legend. It has been quoted so much, it would not surprise me if they wrote it down in history books. Just kidding! I love absolutely everything about the outfit: the cute little headpiece, the delicate veil, the demure high-collar top, and how it seems buttoned all the way up. And the wide belt, in particular - the part some people criticize: in my mind, the broad waistline is one of those details the whole style hinges upon. The look is so-o-o feminine! And yet so reserved and appropriate. I believe, Grace Kelly was also one of most perfectly attired brides ever, given her position. 1st place.